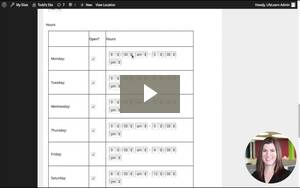 You asked us how to update your hours, so let's get at it. Go to the left side of your website dashboard, click on Locations. Go to your main location and then scroll down to the bottom of the page.
Simply check or uncheck which days of the week your practice is open, and then use the dropdown menu to choose your hours.
If you want to include additional information, like emergency contact information or special holiday hours, you can add this in the notes section and it will display on your page.
Once you're done, click the Update button at the top of your screen.
And now you know. Check out our other videos for more tips like this.