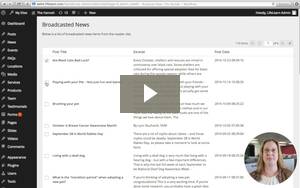 You asked us how to edit or delete a news article supplied by LifeLearn, so let's get at it.
LifeLearn automatically adds one new article to your News listing on a weekly basis, but you do have the ability to edit or remove this article from your site at any time.
To make changes, go to the left side of your website dashboard and click on Broadcast News. Find the article or articles that you want to edit or remove and click the check box beside the title. Now scroll down to the bottom and select the Update Local News Listing button.
This will move those articles over to your News section and set them as Drafts on your site. You can now edit the article and click Publish to make the edited version replace the original, or trash it and remove it from your site altogether.
And now you know. Check out our other videos for more tips like this.