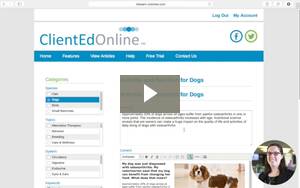 You asked us how to edit articles in ClientEd Online, so let's get at it. Log in to your account, search for the article that you want to edit, and click Edit Resource.
You can edit two sections: the summary and the content within the article itself.
The summary is the short description that clients see when they search for articles on your website, and it's also what you see as you search within ClientEd. We typically use the first few sentences of the article in this section, but you can customize as needed.
To edit the content within the article, simply place your cursor where you want to make changes and edit away. You can use the toolbar here to format text, and to create sub-headers, quotes, lists and links.
When you're finished editing, click Save Changes and you're done.
And now you know. Check out our other videos for more tips like this.