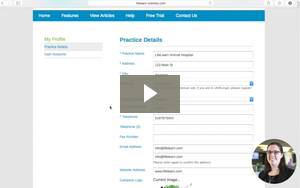 You asked us how to update your letterhead information in ClientEd Online, so let's get at it. Log in to your account, go to My Account in the top right corner of the screen, and click on Practice Details.
You can now update any of the information about your practice here. Note: All fields that are populated with information will be displayed in your letterhead when a client prints one of the articles. Click Submit when you have completed your changes.
And now you know. Check out our other videos for more tips like this.