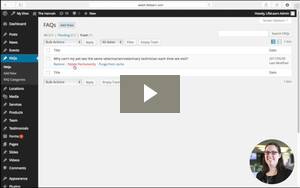 You asked us how to delete or unpublish an existing frequently asked question, so let's get at it. Go to the left side of your website dashboard and click on FAQs. Scroll through and click on the FAQ you want to remove.
To delete the FAQ, hover over the question and click Trash. This will move that FAQ into a trash bin where you can either restore it or permanently delete it.
Or, you can unpublish an FAQ, which simply removes the question from public view while allowing you to keep it and republish later on. Hover over the question, click Quick Edit and choose Pending Review from the Status dropdown, then click the Update button.
And now you know. Check out our other videos for more tips like this.