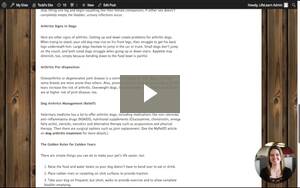 You asked us, "What is a blog?" So let's get at it.
A blog is a series of posts about anything you want to share with pet owners. Posts can include a combination of text, images, and videos.
Having a blog is a big benefit to your website because blogging:
Helps with your search engine ranking,
Increases traffic to your website, and
Gives you a chance to educate and communicate with pet owners, increasing your practice's visibility and credibility in your commuity.
What you blog about is completely up to you, but here are some ideas to get you started:
Monthly wellness topics such as dental health month, heartworm season, holiday hazards, or summer safety tips.
Pet care recommendations and answers to questions frequently asked by your clients.
Success stories about your patients.
Announcements such as job openings, product offerings, local events your practice is hosting or attending, or pets looking for homes.
And now you know. Check out our other videos for more website tips and how-tos.