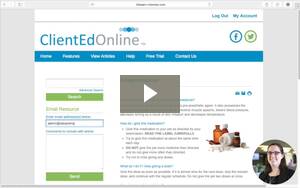 You asked us how to print or email an article in ClientEd Online, so let's get at it. Log in and click on View Articles.
You can either search for the article here or browse through articles by species and topics. Click on the title of the article you want to email or print and then click on the Email or Print icons in the top right corner.
If you choose to email the article, an email and comment field will open on the left side of the screen. Enter the recipient's email address and any relevant comments you'd like to add to introduce the article.
A comment field will also appear when you choose to print an article. This gives you the opportunity to add notes for a client before you click the Print button.
And now you know. Check out our other videos for more tips like this.