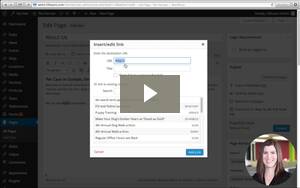 You asked us how to add a text link, so let's get at it. Go to the left side of your website dashboard and click on Pages. Scroll through and click on the page you want to edit.
Select the word or phrase in the body of your page that you want to use as a text link, otherwise known as a hyperlink. Click on the Insert/Edit Link button in the tool bar (it looks like a link in a chain) and then add the URL of the website in the URL field. Click Update and you're done.
Here's an extra tip for you: you can also link to existing content in your site from here by entering a search word or phrase and then picking a page from the dropdown menu.
And now you know. Check out our other videos for more tips like this.