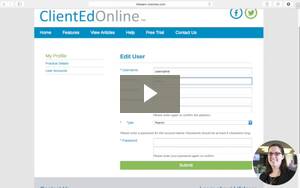 You asked us how to add users to your ClientEd Online account, so let's get at it. Log in to your account, go to My Account in the top right corner of the screen, and click on User Accounts.
Click the green Add button and enter your employee's information. You'll enter their username, first and last name, email address (for password retrieval), which type of user they are, and their password. Now click Submit.
And now you know. Check out our other videos for more tips like this.