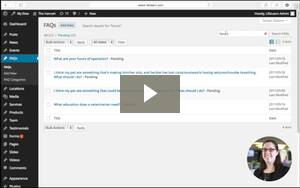 You asked us how to edit an existing frequently asked question (FAQ), so let's get at it. Go to the left side of your website dashboard and click on FAQs. Scroll through and click on the FAQ you want to edit.
Hover over the question and click Edit. From here, you can update the question and/or the answer by adding or removing items like text, media, and links.
When you're done editing, click Update and your changes will be published.
And now you know. Check out our other videos for more tips like this.