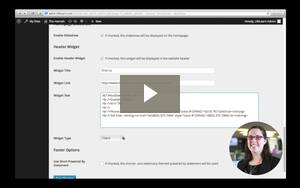 You asked us how to edit your header widget, so let's get at it. Go to the left side of your website dashboard, click on Clinic Options then General.
Scroll down until you see the Header Widget section. You can update the title, edit the text, and add a link that will direct the client to a subpage of your site. You can also change the icon that's associated with it.
Now here's what we'll ask you NOT to change. See these HTML tags at the beginning and end of your widget information? Do NOT change these. These nifty little tags are what keeps your widget formatted and displayed nicely on your page.
When you're done, click Save Changes.
And now you know. Check out our other videos for more tips like this