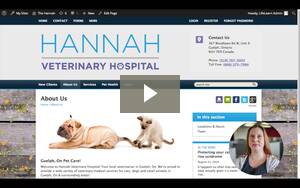 You asked us, "What are slides?" So let's get at it.
Slides are the rotating images you see on your homepage.
You can have up to 8 slides, however we typically recommend using up to 4 or 5 as most clients will continue scrolling through your site after a few slides.
You also have the option to add text to your slide, and you can even make your slide link to another page on your site for more information.
What you add is completely up to you, but some popular slides include information about:
Regular hours and holiday hours,
Local events that your practice is attending, and
Monthly wellness topics such as dental health month, heartworm season, holiday hazards, or summer safety tips.
And now you know. Check out our other videos for more website tips and how-tos.