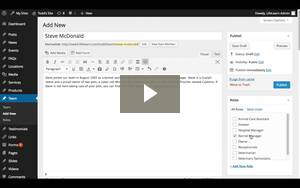 You asked us how to add a new team member, so let's get at it. Go to the left side of your website dashboard and click on Team and then click the Add New button at the top of the page.
Add your team member's name to the title area, type the bio into the main editor, assign a role or create a new role if needed, and then add a photo.
You can click Publish to put this info on your site right away, or you can set a specific date to publish these changes, which can be helpful if their start date is still a few weeks away.
And now you know. Check out our other videos for more tips like this.