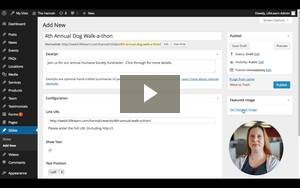 You asked us how to add slides on your homepage, so let's get at it. Go to the left side of your website dashboard and click on Slides.
Click the Add New button at the top of the page; add a title, excerpt and URL link. Click show text and then choose whether you want the text to appear on the left or right side of the slide.
Click the Set Featured Image link, then the Upload Files tab to upload a new image. Click the Set Featured Image button here, click Publish and your new slide will be added to the rotation on your homepage.
And now you know. Check out our other videos for more tips like this