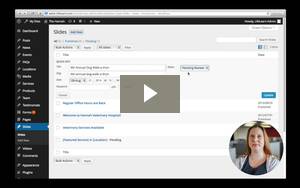 You asked us how to delete slides, so let's get at it. Go to the left side of your website dashboard and click on Slides.
Click Quick Edit and change the Status to Pending Review. This will remove the slide from the active rotation, but it will still be available for you to put back into the rotation at a later time.
Or, you can fully delete the slide by clicking Trash, which moves the slide into a trash bin where you can either restore it or permanently delete it.
And now you know. Check out our other videos for more tips like this.