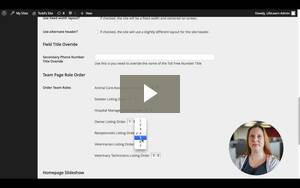 You asked us how to reorder the roles on your Team page, so let's get at it. Go to the left side of your website dashboard and click on Clinic Options and scroll down to the Team Page Role Order section.
Each role will have a numbered dropdown field. Go through this list rearranging the roles in your preferred order, one appearing at the top of the page and the largest number appearing at the bottom of the page, then click Update.
And now you know. Check out our other videos for more tips like this.